Product Features
1. Made from fine 42CrMo with treatment to HRC 43-47.
2. Thread and 60°cone are processed one time to ensure coaxiality. Thread tolerance is 4H.
3. Peach-heart circle ensures the balanced distribution of over all weight along the circumference and avoid mechanical vibration.
4. High quality black oxide ensures attractive appearance, high corrosion resistance and durability.
5. According to requirements of clients, dynamic balance level are G2.5*18000rpm, G2.5*2000rpm, G2.5*25000.
6. Other types of nut will be custom processed according to drawing.

Technology: High quality chrome-molybdenum steel is adopted. Finish machining thread, cone and surface bluing treatment should be achieved after rough machining and overall quenching.

Feature: Nut is characterized by long process flow. Finish machining thread after overall quenching makes the critical dimensions more accurate and thread grade reaching grade 4H. Surface bluing treatment, the appearance including all black and white tooth, and popular in Europe and America.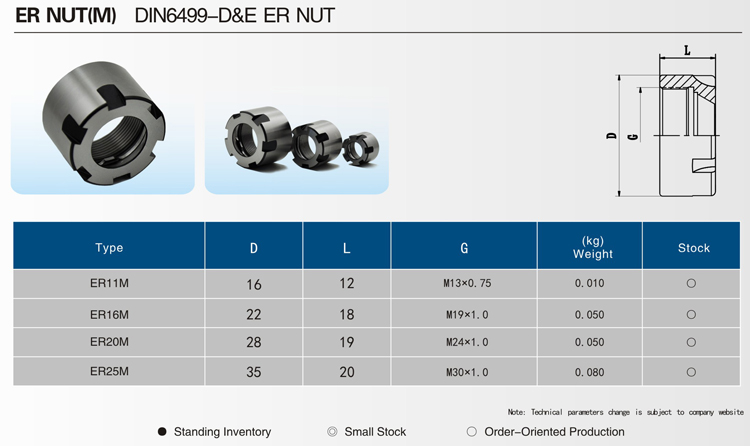 Insertion Procedure
1. Insert the collet at an angle, fitting the two extractor teeth which protrude A (figure 1) into the collet's groove (figure 2).
2. Place the two parts on a clean and horizontal work surface, press down with your thumb on the back end of the collet until it clicks into place (figure 3).



Extraction Procedure
1. Place the nut on your right hand, push the top of collet with middle finger towards the mark on nut, to let A site of the nut completly insert the collet groove (figure 4). At the same time, the left hand tightly hold the nut, the thumb pull the bottom of collet at the mark direction (figure 5), to make one side of collet out of nut (figure 6).
2. Slightly rotating collet to remove it from nut.
3. Please use a screwdriver instead if necessary (figure 7).